ht
tp://ktr-tetsudo.jp/station/mineyama/img/sightseeing/index_img_013.jpg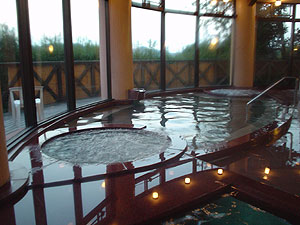 http://hse.dyndns.org/hiroto/private/Bclass/onsen/on00/on0076/p02.jpg
This hot spring located in mountain side of this region. I kind of liked how you going to entre to hot spring spot. If you visit there, you can probably understand what I mean.
Price: 600yen/person
Open: 10:00-22:00
Last admission time is 21:30
Closed: every 3rd Wed(except Public Holidays)
Address:548 Kibashi, Yasaka, Kyotango, Kyoto(京都府京丹後市弥栄町木橋548)
*Please copy and paste Japanese address to find the location on google
Access: About 30mins bus ride from Amino train station(網野駅) take a bus "Yasaka/Amino-sakyu line
弥栄網野砂丘線"
towards Yasaka-byouin-mae弥栄病院前行" and get off at "Yasaka-Ashiginu-onsen (弥栄あしぎぬ温泉)". Bus fare:200yen(single)
Their offical website in Japanese.