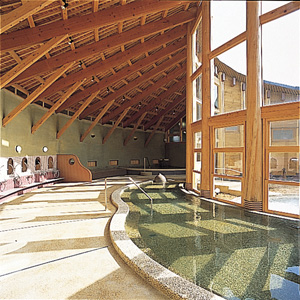 http://kanesho-agri.co.jp/sightseeing/images/photo/course/05-06.jpg
http://www.yukoyuko.net/photo/2676/t_01.jpg
This hot spring has ocean view although they switch women&men everyday and only oneside has ocean view. The other side offer you Japanese forest feeling. Facilities are very clean and I highly recommend!! You can also stay overnight at a cottage located next to the hot spring building and that cottage has fully equipped kitchen.
Price:600yen/person
Open: 11:00-21:00
Closed: every Thu(except Public Holidays).
Address:1562 Kyuso, Tango, Kyotango, Kyoto(京都府京丹後市丹後町久僧1562)
*Please copy and paste Japanese address to find location on google.
Access: There are 4 buses run every day to Ukawa-onsen(宇川温泉) directly from Amanohashidate station(天橋立駅). Bus fare:400yen/single.
TIPS:This bus goes all the way along the coast of Tango peninsula! I also recommend you to take a bus to Amino station(網野駅) on your way back, so you can see the most part of the beautiful coastline of Tango ;) Then catch a direct train to go back to Amanohashidate.
Bus fare: 200yen/single
Train fare:570yen/single
Their official website in English.